Please Note: This service doesn't support direct posting to Instagram. 
1. Sign into the dashboard and head over to Services+. Here you'll see the list of our most popular services. Find Instagram and click Add.
2. In the dialog, you'll see the Instagram Post option. Click Setup.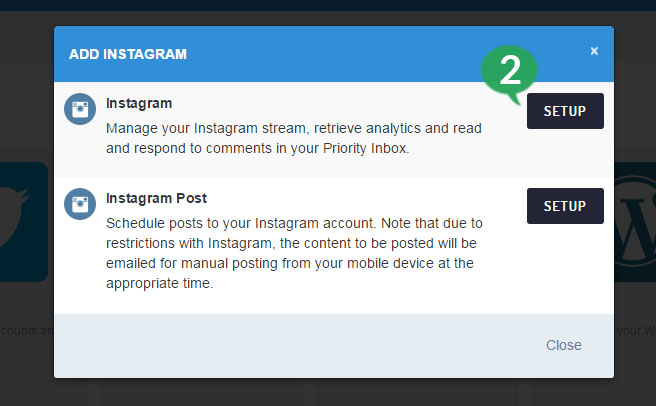 3. You'll be prompted to connect to your Instagram account if you're not already logged into Instagram. Follow the steps and then you'll be directed to the screen below.
4. After connecting, you'll be able to specify one or more email recipients that will receive email notifications when your Instagram picture needs to be uploaded.
5. Once you've added in your settings, please select the Save Settings button.
6. To post to Instagram, click Compose and select your Instagram Post service from the list. Choose a date and time to have this post go out.
7. At the scheduled the time, an email will be sent to the recipient(s) you specified in Step 4, notifying them that the attached image needs to be uploaded to Instagram.